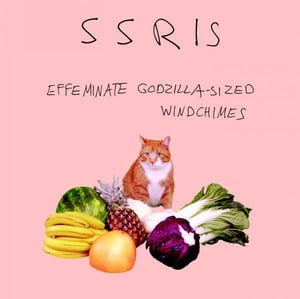 $

15.00 - On Sale
We are in debt, and we are trying to get more of our records out of my bedroom and into your hands!
So for anyone who lives in the Vancouver area, we will deliver a record to your house, and with no postage charge.
AND we'll even throw in a copy of 2008's Teems EP (on CD) for free for you as well.
"Effeminate Godzilla-Sized Windchimes" is our 2010 release. It's on 180 gram vinyl, with a full colour cover and lyric sheet. It comes with a download card, so even if you don't have a record player, you can still hear the tunes, you get the cover/lyric sheet, and you get a cool plastic sphere!
Discorder Magazine thought it was pretty good, they said: "The songs dabble in perfection so much so that after successive listens, it is difficult to imagine any of the tracks performed differently. Play it loud, be prepared to get charged up, and place it in your 'favourites of 2010' playlist."
It has these songs:
1. Certain Set Configuration
2. Making Sense
3. Clay-Faced, Meat Boots
4. You and I
5. Rows
6. Empathy for A Psychopath (Furry Stuffed Animal)
7. Weathered Floor
8. More More
9. Ayn Randy
10. Invisible Handjobs (Flavours)
Jo, Elliot, Tony and Aaron wrote and recorded it.
Teems EP is from 2008, but wasn't released until 2009. It has these songs:
1. Honest
2. Parade
3. Domino Domino
4. CPDEP
5. Dollar Sounds